Description:
This highly flexible system is designed to test a wide variety of imaging devices, from low-noise astronomy and medical devices, to military and machine-vision devices with GB/sec data rates.
To accommodate devices with multiple outputs, the system has a modular design that will scale from 1 to 32 channels, and is customer-reconfigurable in the field.
Built from the ground up for low-noise performance, the PI-3105 puts the critical analog components adjacent to your DUT, while isolating all digital signals for noise immunity.
The system can be reconfigured easily by swapping out low-cost pre-amp and ADC modules. The included software controls gain, offset, filtering, and strobe timing, while video monitor outputs and real-time imaging provide immediate feedback on your sensor's performance.
When integrated with our popular electronic stimulus products and our photon sources, the PI-3105 completes Pulse Instruments' 3rd-generation of fully-integrated imaging test systems. The PI-3105 can also be integrated with 3rd-party products and software.
---

Figure 1: Simplified block diagram
Pre-amplifier modules
Pre-amplifier modules are designed to attach directly to a Dewar or through a short length of coaxial cable. Each pre-amp channel has independent gain control (0.5x to 64x, depending on model) and can drive several feet of coaxial cable without appreciable signal degradation. Global offset correction is also applied within the pre-amps.
Acquisition Interface Module (AIM)
The pre-amp outputs are cabled to the Acquisition Interface Module (AIM), which houses the Gain/Filter stages and the ADC modules.
Gain and Filtering
The Gain/Filter stage provides additional programmable of up to 420x (depending on model). A programmable filter stage provides selectable filtering at decade or half-decade bandwidths (-3 dB), or an un-filtered setting for maximum bandwidth.
A/D Conversion
The conditioned analog signal is then processed by the ADC modules, digitizing to 14, or 16-bits depending on the modules installed. An optional CDS feature provides correlated double-sampling via a second ADC, and the resulting values are summed digitally.
Sampling timing is independently programmable for each channel, both for the video sample and for the CDS.
The digitized outputs are then passed through a set of optical or galvanic isolators to the digital acquisition system.
Digital Multiplexing
Up to four digitized outputs can be multiplexed into a single digital stream via an optional multiplexer in the AIM. The card can be controlled in software to multiplex 4:1, 3:1, 2:1, or even 1:1 as a scanner or switch.
Digital Acquisition
The PI-41000-4G Digital Acquisition Card has two 16-bit input ports, each with a 80 MHz maximum capture rate. Combined with the Digital Multiplexer feature described above, a single PI-41000-4G can acquire up to eight 16-bit data channels.
The PI-41000-4G has large on-board memories (4 GB) to de-couple the data acquisition from the PCI bus. This permits un-interrupted capture from data streams that exceed the bandwidth of PCI. For many state-of-the-art imaging devices, this is the only way to collect a contiguous sample.
Up to eight PI-41000-4G cards can operate in parallel to acquire digital data at a total data rate of 2.5 GBps into 32 GB of RAM.
Once captured, the data are transferred via DMA to the CPU for processing and display.
Timing and Control
Each AIM contains internal, programmable delays for the ADC channels, and requires 4 channels from the pattern generator. In systems with more than one AIM, additional pattern channels can be assigned for their timing, or a clock fanout module may be used. The clock fanout module requires the same 4 channels of timing as a single AIM, but provides timing for up to 8 AIMs, as well as synchronous ARM triggers for up to 8 digital acquisition cards.
Image Processing and Display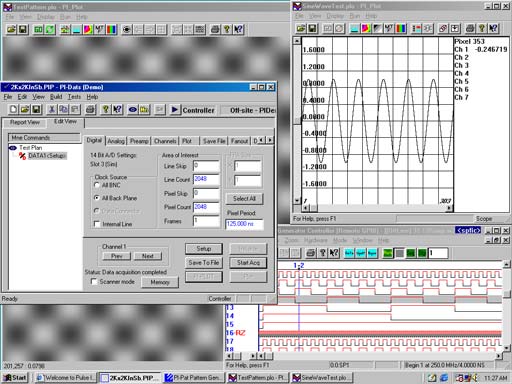 (Click screenshot for larger view)
PI-Controller software on the CPU provides control over the analog setup, the Area-of-Interest (AOI) to be captured, the number of frames to captured, and the processing and display of the acquired data.
A "stitching" algorithm descrambles the multiplexed data from multiple channels and reassembles the final image. Built-in color-handling routines can perform Bayer de-mosaicing for devices with Bayer-pattern color filters.
The "preview" mode provides immediate feedback on the performance of your device, so timing patterns, clock rails, bias voltages, gain, and filter settings can be optimized for your device in real-time.
An open-ended post-processing environment provides the ability to define statistical or diagnostic calculations for your device, either with PI-DATS' built-in analysis functions, or with hooks to your existing analysis software, such as MATLAB, Microsoft Excel, or your own custom software.